The Rakyat Post, Feb 12, 2015
KANCHANABURI, Thailand -- Thai wildlife protection officers say they found no mistreatment of more than 100 tigers housed at a Buddhist temple that is a popular tourist attraction, though charges have been pressed for keeping rare birds there.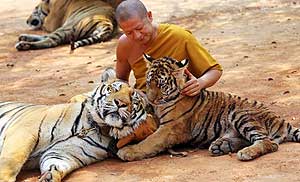 << A Thai Buddhist monk playing with tigers at the 'Tiger Temple' in Saiyok district in Kanchanaburi province, west of Bangkok, on Feb 12, 2015. Wildlife protection officials say they found no mistreatment of the more than 100 tigers at the temple, one of the country's most popular destinations for foreign tourists. — AP pic
About 50 officials from the wildlife department and local religious affairs office, along with soldiers, made a three-hour inspection today of the Luangtamahabua Buddhist temple compound in the western province of Kanchanaburi.
The so-called "Tiger Temple," famous for its tame-looking big cats living alongside Buddhist monks, had been accused of drugging the creatures to keep them tame. The monks and the veterinarian who takes care of the animals have denied the allegations.
A wildlife department raid last week found that the temple was illegally keeping 38 hornbills and other protected bird species.
SOURSE:BUDDHIST CHANNEL