by Jagriti Kumari, One India, July 27, 2015
Beijing, China
-- China is all set to expand country's oldest Buddhist temple in Henan Province in the country, media reported.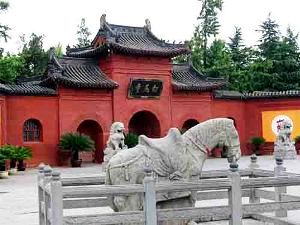 A site-cleansing ceremony was recently held in Baima Temple in Luoyang city in Henan Province, the local religious affairs authority said, The Global Times reported.
A new Hall of Ten Thousand Buddhas, designed in Han Dynasty style and with a floor space of 13,891 square meters, will be added to the ancient temple.
The 1,943-year-old Baima Temple, also known as the White Horse Temple.
It was the first Buddhist temple in China and is considered "the cradle of Chinese Buddhism. The temple went through two major expansions by Empress Wu in 685 AD and by Emperor Shizong of Ming Dynasty in 1555 AD.
SOURSE: BUDDHIST CHANNEL