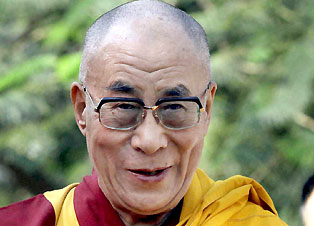 Varkala: Tibetan spiritual leader Dalai Lama, who arrived here on Friday to attend religious functions, said at the inaugural function of the Sivagiri Mutt's 80th annual pilgrimage at Varkala that we should attempt to attain peace in the 21 century. The 20th century was marred with bloodshed and violence. And everyone should try to avoid these in the 21st century. Many are being killed in battles and domestic violence and more discussions are needed on this, he said.

Technical knowledge had taken the front seat during the 21 century. There is development in the science sector too. But some inventions are causing harm to the global population. There were also attempts to use nuclear weapons against human life, Dalai Lama said.

Dalai Lama who reached the SIvagiri Mutt at 9.15 in the morning was welcomed by the Sivagiri Dharma Sangam Trust. The Dalai Lama also offered floral tributes to the samadhi of Sree Narayana Guru, .

The district superintendents of police at all the districts that the Lama will pass through have been asked to ensure that nothing is left to chance as far as security is concerned.

At Kochi he will also attend functions organised by the friends of Tibet, besides giving a lecture on 'The Art of Happiness'.
sourse:mathrubhumi daily